How to Determine Log Rate on Panorama Devices with a Log Collector
Created On 09/25/18 19:24 PM - Last Modified 10/27/20 20:03 PM
Symptom
This document describes how to determine the logging rate on Panorama with a Log Collector.
Environment
PAN-OS 7.0 and above.
Any Panorama.
Resolution
When a Panorama Virtual Machine or M Series is configured in Panorama Mode with a Log Collector and is managing firewalls, the logging rate can be obtained using the Statistics link under WebUI: Panorama > Managed Collectors.

Clicking on the Statistics display Average Logs/sec.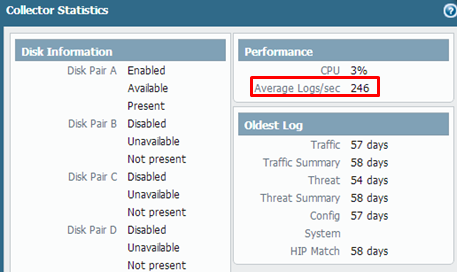 When the Panorama server is enabled to collect logs, the same statistics can be obtained from the CLI, using the command:
 

Panorama> debug log-collector log-collection-stats show incoming-logs
Last time logs received Sun Feb  2 17:54:47 2020



Incoming log rate =   125.85



Detail counts by logtype:
traffic:1780676451
config:1126
system:98615
threat:28105597
The difference in the log rate between the command Line and Web UI is because:
The Web UI displays the rate at which the logs are written to the M-100 RAID disks and is measured at 5 minute average intervals.
The command line displays the rate at which the Log Collector has received the logs at any moment in time.
Additional Information
Panorama Administrator's Guide describes how to Determine Panorama Log Storage Requirements.
Attachments