How to Determine Log Rate on VM Panorama or M-100 with a Log Collector
Created On 09/25/18 19:24 PM - Last Updated 05/01/19 15:19 PM
Cortex Data Lake
Panorama
Resolution
Overview
This document describes how to determine the logging rate on Panorama with a Log Collector.
Note: For Panorama 7.0, the Panorama Administrator's Guide describes how to Determine Panorama Log Storage Requirements.
Details
When a Panorama Virtual Machine or M-100 is configured in Panorama Mode with a Log Collector and is managing firewalls, the logging rate can be obtained using the Statistics link under Panorama > Managed Collectors.


Check to see the Average Logs/sec under Statistics.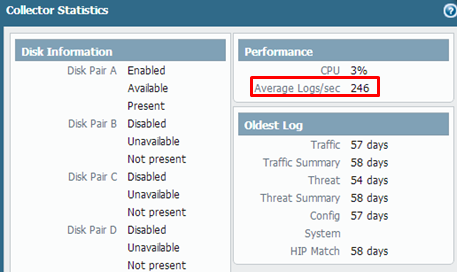 When the Panorama server is enabled to collect logs, the same statistics can be obtained from the CLI, using the command:


Note: There is a small difference in the log rate between the CLI and web UI because the Web UI displays the rate at which the logs are written to the M-100 RAID disks and is measured at 5 minute average intervals.
While the command line displays the rate at which the Log Collector has received the logs at any moment in time.
Attachments